Everything you need to know about EDDM sizes
2 MIN READ
Are you looking for an easy way to get information out about your company or products? Every Door Direct Mail (EDDM) through the United States Postal Service is one of the best, and most efficient ways to do so. Not sure what EDDM is or where to get started? We'll break down what you may need to know before you jump into it.
What is EDDM?
According to USPS, EDDM lets you reach every home, every address, every time. You pick the neighborhood you want to target, and a postal service carrier delivers your printed piece to every address while delivering the day's mail. This service doesn't require addresses or names and helps simplify your mailing needs as a business.
What are the EDDM sizes?
If you're thinking of using EDDM in your company, there are a few USPS requirements you must meet:
Size: Each piece must be longer than 10.5" OR taller than 6.125" OR thicker than .25"

Dimensions: Each piece must be smaller than 12" x 15"

Weight: Each piece must weigh less than 3.3 ounces

Thickness: Each piece must be thicker than .007" and less than .75" thick

Amount: Each mailing must consist of at least 200 pieces (Up to 5,000 pieces per day)
If you need help creating pieces that meet EDDM requirements, then Aradius Group has you covered! Let these ATTRACT InDesign templates guide your creative team with things including mailing label, indica placement, sizing and more.
EDDM mailing requirements
According to USPS, EDDM mail pieces must have the entire mailing label on the "top half" of the mail piece. The orientation does not matter. This means you're able to apply the label to the long or short side of the piece. The top half of the piece will always be the shortest end.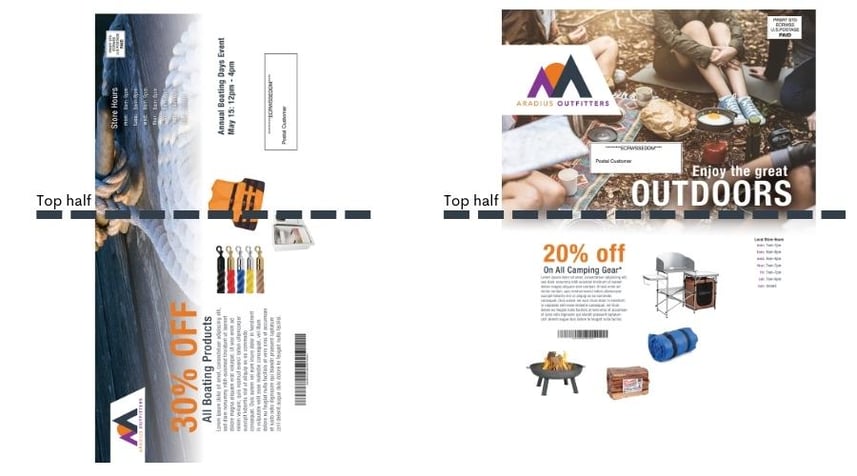 EDDM label options
There are a few acceptable EDDM label options for entry at Business Mail Entry Units:
Postal Customer for all active delivers

Residential customer for residential delivers

PO Box Customer for PO Box deliveries

Here are a few other things you must include on an EDDM label:
City, state, and 5-digit ZIP Code
EDDM must be included after "ECRWSS" on the label of pieces greater than 10.5" and up to and including 11.5" in length submitted at a BMEU.
*Note: All mail pieces must contain "ECRWSS" in the address area or within or below the permit indicia.
How can Aradius Group help?
Aradius Group has created the ATTRACT Solution to support businesses looking to grow within targeted geographic locations.
We work with the USPS EDDM program to select carrier routes, identify a target range, and deliver an oversized marketing piece to every door. The best thing about ATTRACT is you don't need specific addresses or names to send your pieces.
If you're interested in learning more, you can check out our ATTRACT webpage to see how it all comes together and how it can help grow your business. At Aradius Group we also have campaign consulting that can answer any questions you may have, questions you may have while creating an EDDM piece.