How the right mail format can help your business
3 MIN READ
Have you ever looked at your campaign budget to see that postage accounted for over 50% of it? That may catch you by surprise if you aren't anticipating it! If that's you, you may be looking for a way to keep postage costs down going forward. Let's breakdown how using the right mail format can help keep costs down and extend your marketing reach.
What is a mail format?
According to McCarthy and King, a direct mail format refers to a specific type of mailer, which is either an envelope mailer or a self-mailer. An envelope mailer is your typical piece of mail in an envelope and a self-mailer is a self-contained mail piece that requires no envelope. When it comes to setting up a direct mail piece figuring out which mail format you're going to use is important. There are different types of formats you may be considering such as, postcards, envelope mailers, brochures, catalogs or even publication self-mailers.
Different mail formats
Postcards
These are one of the most popular and most effective mail formats. Postcards are an all-in-one type of mail, meaning you don't need an envelope, which is already a cost saver. Postcards have less space, so that means you need to be more selective when it comes to picking your images, call to actions and brief message.
At Aradius Group, we have a few different post card options including a regular postcard, bi-fold postcards and tri-fold postcards.
Brochures
Brochures are larger, which means you have more space to get your point across. They're colorful, full of images, and allow you to write more text than you would on a postcard. Unlike postcards which are easy to hang on a refrigerator, brochures take up a bit more space, so they're harder to miss. Just because a brochure has more space though, doesn't mean you can put anything in it. You have to make sure you're still choosing quality call to actions, images, and text.
Slim Jim
According to USPS, a Slim Jim is considered a booklet, which means you have room to get the correct information out to your customers. The compact size allows you as a business to save on postage and paper costs. The compact feel also allows for a more personal feeling - especially if you focus in on your design and photos.
If you're looking for something that's the same style, but with a little larger pages, a Digest may fit what you're looking for.
Flyers
This is another direct mail format that some would say is very effective. Flyers are inexpensive to make and can reach a wide audience. There's quite a bit of space to do what you'd like with this piece of mail. They can be used for things like announcements or coupons. You'll still want to make sure a flyer has a good headline with images that follow what you're promoting.
Coupons
Coupons have been mentioned already, but that's because they're a great way to bring in new customers, so a lot of direct mail includes them. You've probably received stand-alone coupons before, but some would argue that isn't the best way to send them out. Either way, no one is ever going to be upset about receiving a discount on something. It's still best to combine coupons with something. When sending them out, make sure it's clear how customers can redeem them.
All the mentioned formats are great options, but you'll always want to make sure you spend time picking the one that will get the right message across for your specific campaign.
How does the right format save your company money?
When you're sending mail out for a campaign, there's a chance it's a direct mail piece, which means you've targeted a group of people that are more likely to buy the product you're advertising. So, in return, you're saving money by not sending pieces to people who wouldn't be interested anyway. But another way to save money during a campaign is making sure your pieces are in the correct dimensions.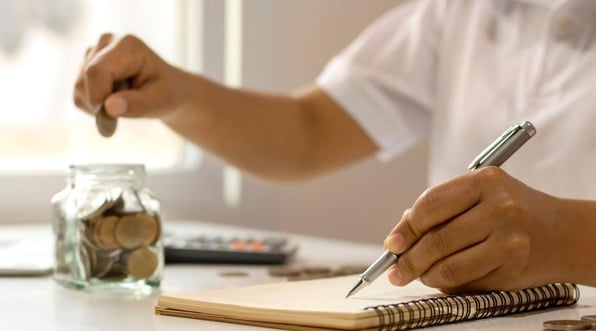 There are some mail formats that are very popular, but they are often created with dimensions that are just slightly off from the most cost effective sizes. At Aradius Group, our REACH solution was created to allow us to adjust the dimensions of final print pieces to align with suggested measurements, which will in return save on production time and on postage costs.
How REACH works:
First, download our REACH Overview to see our recommended formats and sizes, then connect with our team. They'll be able to help you understand which cost saving format best suits your direct mail piece.
REACH optimized direct mail options:
Next, now that you've chosen the best format for your project, we can give you a quote on your project based on your selection and your team can start designing. You can check out our REACH InDesign Templates as a starting point.
Finally, when your design file is complete, check to make sure it follows our Prepress File Guidelines, then send it over to our team!


After all of that is done, we'll schedule it, move it to production and then mail the pieces to their final destination! And you can download our guide if you're interested in learning more on How to Design Your Next Mailpiece!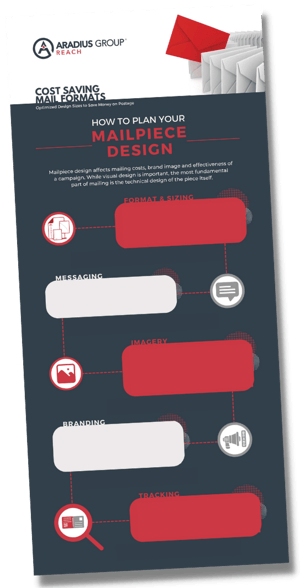 The takeaway
If you're looking to avoid half of your campaign budget going to postage, then finding the right mail format size is something you should be focusing on. You'll be able to put your campaign budget in more places and reach more people in the process. That already sets your next campaign up for success!
If you're interested in getting started, reach out! We're always ready to help you find the perfect dimensions for your next print piece.