What is brand loyalty, and how does it benefit your company?
4 MIN READ
You've used a cell phone from the same company for years, but now it's time for an upgrade. You have no complaints with the company, the phone has been reliable and customer service has been great every time you needed them. You decide you'd like to stay with this phone brand, so you're going to purchase the upgraded version of the phone – this is an example of brand loyalty.
It's important to know what brand loyalty is and how it can positively impact your business. Let's break down everything you need to know from what brand loyalty is to the benefits it can bring.
What is brand loyalty?
According to Amazon Ads, brand loyalty is when customers continue to purchase from the same brand over and over again, despite competitors offering similar products or services.
Brand loyalty focuses heavily on the way a customer perceives a brand. This is often broken down into how a customer sees your brand, feels about your brand and products. It doesn't stop at how a customer feels about a product though, they also care about feeling seen and valued as customers.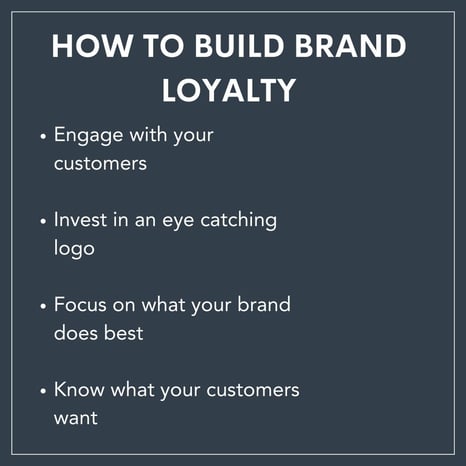 Examples of brand loyalty
Apple
We mentioned a cell phone brand at the start of our blog, so it's only right Apple makes the list of examples.
According to Gitnux, Apple has a 90% retention rate. This means that majority of customers who buy from Apple once continue to buy from them after. There are a lot of things that could play into this, but for one, they've created a strong connection with their customers. Their products are known for being a certain quality and performing the same every time.
Starbucks
You can get coffee ANY WHERE, but people are still showing up to Starbucks time and time again for their products. The brand loyalty here comes mostly from their rewards program, My Starbucks Rewards. You get stars every time you use the app while purchasing something and you can in return use the stars for free products. You're earning every time you spend money – and people love that.
Starbucks also gets an extra pat on the back for their products and social media efforts. They're constantly adding new items, whether seasonal or not, to their menu and displaying them perfectly across social media platforms.
Google
There are other search engines, but how often do you hear about them? I don't hear about them often. Most search engines work the same, but Google has built a following that has lasted overtime. And now, it's the number one search engine in the world!
How does brand loyalty help a company?
Simply put, if a customer enjoys what a company is doing then they'll continue to return, which means they'll always have a sell with that person. If this is the case for thousands of customers, then the business will have continued revenue.
It's important to keep in mind though that building brand loyalty takes time and effort from your entire company. But once you have customers who are loyal to your brand you will see the pay off time and time again.
Here are a few things you'll want to keep in mind when building brand loyalty
Don't keep people on their toes, what does this mean? No surprises. You may release new products or services, but the way you do it and the quality should always remain the same. Customers don't like surprises, they like knowing what they're getting every time.
Design and branding is another thing you'll want to focus on. Customers like seeing logos they can easily recognize. Apple has had the same logo since the 70s, and people recognize it with ease. Keep this in mind when you're designing products and thinking about your branding - pick something that will last a lifetime.
Keep values at the forefront. Aradius Group is a printing company, which means we use paper, we have quite a few sustainability efforts in place to make sure we're doing our part and customers are interested and support that. Customers will come to us because of our efforts and will stick with us as long as they align with what they care about.
Another thing customers like is something that feels personal. If a customer is buying into a product or service, they want to feel like the company is paying attention to their wants and needs. This is where personalization comes in.
At Aradius Group we offer RETAIN, which focuses on recurring personalized print campaigns. Here's how it works:
Discovery – We'll discuss your business goals so we can maximize your use of personalized print. If you have customer data, see if you can group your customers into categories based on their preferences.
Design – Based on what you uncover about the shared interested of each group of customers, create your marketing piece in a way that appeals to each audience's personality. This is where you'll align your images, graphics and product suggestions with the consumer groups you created.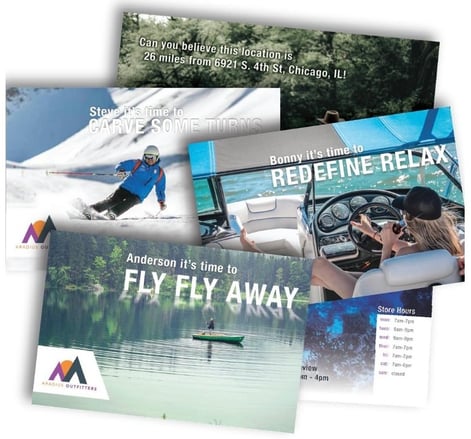 Start your campaign – It's time to print and mail your products! Our technology combines your data with the fields in your design file to produce a unique printed piece for each mail recipient. We'll set up an online portal for you to manage and easily upload new data, select your campaign and mail to your customers for simple, recurring personalized print campaigns.
This solution guarantees that customers will be able to track their progress, it also sets them up in a partnership with Aradius Group for their future campaign needs. No more finding a printer every time you need something done. You'll have us ready to go!
Interested in learning more about personalization and why it's important to use at your company? Check out The Anatomy of Variable Data Direct Mail! You'll get insight on what variable data is, why personalization is important and how it can help your company.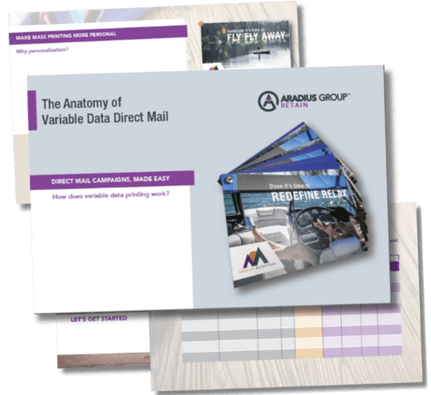 The takeaway
Pay attention to the brands you're loyal to and think about why, then take those reasons and build them into your company. By paying attention to what your customers want and need, you'll be able to build brand loyalty time and time again. There's always more to it than products or services. It involves trust and support.
Brand loyalty can take time to build, but it's worth doing, for both your company and your customers. Find your brand strategy and then find what gaps you can close. Let Aradius Group help you build brand loyalty with our solution RETAIN!