Why personalized print matters
4 MIN READ
In today's digital age, it can be easy to overlook the power of personalized print. However, by tailoring your marketing efforts to the individual customer, you have the opportunity to make a lasting impression and build brand loyalty. With the ability to collect customer data and create targeted campaigns, personalized print can be a powerful tool in improving ROI and retaining customers.
Read on to learn more about how personalized print can benefit your business.
What is personalized print
Personalized print, also known as variable data print, involves printing pieces specific to individual recipients. This could be as basic as including their name and address, or as complex as using custom text and images. The goal is to make each piece unique and personalized to the recipient.
These pieces can be as simple as a mailer, or they can be coupons to a recipient's favorite place. Just the other week I went to a local farmers market, you know what was in the mail not too long after? A coupon for that farmers market for the sourdough bread I purchased. Personalization works great, especially when you're using data to pay attention to what your customers are buying.
Looking for a comprehensive guide to personalized print? Look no further than The Anatomy of Variable Data Direct Mail! This guide has everything you need to know at your fingertips.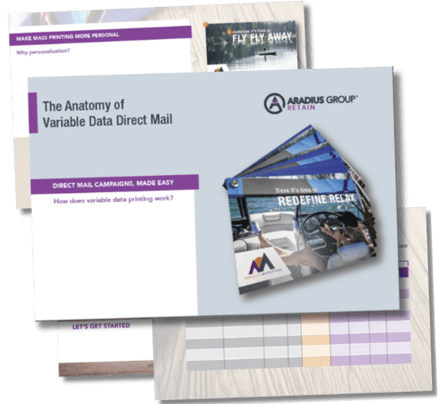 How does personalized print work?
Personalized print is a great tool for a company to utilize, but there's some work that must happen on the back end before you can start, including tracking down customer data.
According to Shopify, customer data is information collected on a company's customers; it's used to personalize marketing campaigns, identify target audiences, and increase sales. It includes things like age, gender, occupation, purchase history, browsing data and preferences.
In short, customer data is what you use to better know your audience. It gives insight into what they buy, what they do, and who they are. This will allow you to create better marketing campaigns over time.
The way you collect customer data may depend on the product or services you offer – but there are a few options you can test out. You can try sign-up forms, this will allow you to have a customer's name and email. Website or app tracking, you'll be able to see how people act on your website or app. Email marketing will help you analyze customers' interactions and help you improve campaigns over time.
If you're interested in learning more about personalized print direct mail campaigns, download our Direct Mail Marketing Guide! Discover the power of effective direct mail strategies and learn how personalizing your direct mail can help you create real connections with your customers.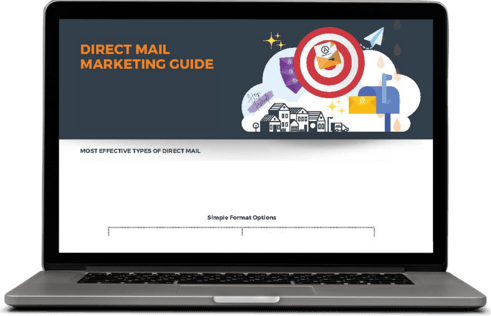 Types of customer data
Identity data - this will help you get to know the basic details about your customers.
Name

Postal and email address

Phone number

Age and birthday

Race and ethnicity
Engagement data – this will show how customers interact with your business across different touchpoints.
Website visits

Click-through rates

Bounce rates

Ad engagement

Social media engagement, including likes, comments and shares

Email engagement
Behavioral data – this focuses in on customer's direct engagement with your business.
Purchase history

Subscription renewals and cancellations

Abandoned shopping carts
Attitudinal data – this type of data can be trickier to understand because it is based off reviews left by your customers on your business, services and products.
Customer reviews

Online surveys

In-person interactions with customers
Why personalized print is important
Consumers are constantly receiving ads, whether digital or in the mail, so there's a good chance that generic mail piece isn't sticking out to them. Personalized print allows them to feel seen and heard. They see images and unique offers picked out just for them, and this ultimately determines how the customer reacts to your brand. This could be the deciding factor of a customer using your company or going with another one. Companies putting in the time and effort to learn details about their customers can help increase customer engagement overtime.
At Aradius Group we can help you with recurring personalization in your next marketing campaign. Our solution RETAIN uses personalized print to increase brand loyalty and customer retention.
RETAIN works to identify personas and creating relevant messaging that resonates with each consumer group. It lets you use the customer data that you have and give each individual an offer that matches their unique interests with a specific product or service that your business provides.
Benefits of personalized print
Brand loyalty
Personalized print will also allow your company to build brand loyalty. According to Amazon Ads, brand loyalty is when customers continue to purchase from the same brand over and over again, despite competitors offering similar products or services.
Brand loyalty focuses on the way a customer perceives a brand. You'll see this broken down into how a customer sees your brand, feels about your brand and products. Overtime, a customer will see that they enjoy what a company is doing and continue to return, which means they'll always have a sell with that person.
Brand recognition
You want to be recognizable in your industry and that means you need to be using mail to communicate with clients and customers. When a customer see's a customer envelope or direct mail piece, they'll know it's from you. It makes you recognizable, but it also makes a customer feel more comfortable because they already know what to expect from your company.
Your goal each time you interact with a customer or potential customer should be to leave a good impression. So, when they see your high quality, personalized items, they'll equate your business to that item.
Efficient marketing campaigns
Once you start getting to know your customers better, the better your marketing campaigns will become. Why? You have a good idea of what a customer is looking for and what will make them more likely to purchase it. You will start creating campaigns and marketing pieces that are targeted directly towards your audience. You're also saving on money as a company by working to keep the same customers coming back time and time again, which in return is boosting your retention rate.
Improves ROI
Personalized print is a powerful tool that can help companies increase their ROI. By collecting customer data and using it to personalize marketing campaigns, businesses can better engage with their audience and create a lasting impression. By creating targeted campaigns based on customer interests and preferences, companies can save money and boost their retention rates.
The takeaway
In conclusion, personalized print is a powerful marketing tool that can increase brand loyalty, recognition, and efficiency. By collecting customer data and using it to create personalized marketing campaigns, companies can better engage with their audience and ultimately improve their ROI.
At Aradius Group, we offer RETAIN, a solution that uses personalized print to increase brand loyalty and customer retention. Contact us to learn more about how personalized print can benefit your business.