Are you a business that's looking for a way to let the community around you know about your products? Direct mail is probably a great option for you but not just any direct mail campaign. You'd benefit from Every Door Direct Mail, which is a program ran by USPS with the intention of promoting small businesses. This can include wanting people to know about a sale, opening a new location or just sending over coupons to get customers in the door. EDDM is known for being an easier way to do direct mail campaigns and we want to break it down for you.
What is direct mail and how can you simplify it?
According to Shopify, direct mail is a form of marketing that involves sending a physical piece of promotional material through the U.S. Postal Service or other courier service to a home or business.
Direct mail is a great option for every business because it can let people know about their product or services in a cost effective manner. Direct mail allows new business owners to get the word out about their services, while existing companies enjoy it because it can generate new business in a new or current location.
At Aradius Group we have a solution called ATTRACT that leverages the USPS EDDM program to select relevant carrier routes within a defined radius of your location. It's one of the most cost-effective and easy ways to handle a direct mail campaign.
ATTRACT allows us to identify an acceptable target range and deliver an oversized marketing piece to every door on the USPS route. This approach eliminates the cost of purchasing a list or personalizing the printed piece and allows individuals to grow their business in a specific geographic location.
Check out this video to learn a little more about ATTRACT.
EDDM piece types
There are a lot of different ways a company could decide to handle their direct mail campaigns, and there are several different types of direct mail styles. Let's walk through a couple of the ones you may consider and have probably even received yourself.
Letters
Sending letters remains as one of the most personal types of direct mail. They're also a cost effective way to introduce your company and get information out to the community. Letters will also allow customers to feel a personal connection with your company.
Self-mailer
Self-mailers are sent without an envelope, but often folded into the same size as an envelope, or smaller. These tend to be inexpensive but can be customized to fit whatever information you're trying to get out to your audience.
Postcards
Postcard work well when a company is looking to announce a store opening or an event. They're clear and effective in getting out information you need, they're also economical.
Coupons
Coupons are a great way to inform people about your business and product, and hopefully get customers in the door with some type of discount. These tend to be inexpensive to print, but effective in getting foot traffic.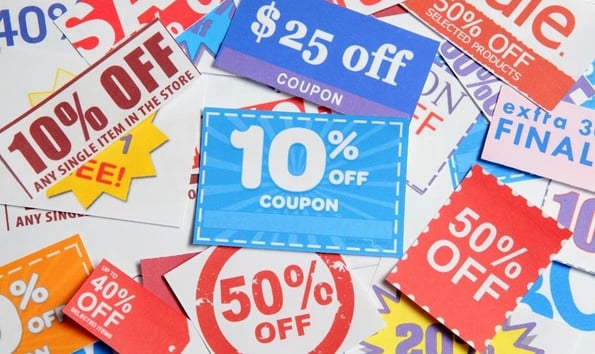 What you need to know about EDDM requirements
EDDM is a considerably easy way to handle direct mail campaigns, but something companies may run into when considering the program is the mailing requirements USPS requires. We want to help give you an easy breakdown of what you need to know before you jump into it.
What are the EDDM sizes?
If you're thinking of using EDDM in your company, there are a few USPS requirements you must meet. Let's go further into those specific sizes:
Size: Each piece must be longer than 10.5" OR taller than 6.125" OR thicker than .25"

Dimensions: Each piece must be smaller than 12" x 15"

Weight: Each piece must weigh less than 3.3 ounces

Thickness: Each piece must be thicker than .007" and less than .75" thick

Amount: Each mailing must consist of at least 200 pieces (Up to 5,000 pieces per day)


EDDM label options
There are a few acceptable EDDM label options for entry at Business Mail Entry Units:
Postal Customer for all active delivers

Residential customer for residential delivers

PO Box Customer for PO Box deliveries

Here are a few other things you must include on an EDDM label:
City, state, and 5-digit ZIP Code
EDDM must be included after "ECRWSS" on the label of pieces greater than 10.5" and up to and including 11.5" in length submitted at a BMEU.
*Note: All mail pieces must contain "ECRWSS" in the address area or within or below the permit indicia.
EDDM Benefits
There are many benefits to using EDDM, we'll go through a few to give you an idea of how the program could help your business in the long run.
Cost effective
I think this is one of the biggest benefits, and I think most companies would agree. There are a few things that can impact the cost of a direct mail piece like material weight, bulk discounts and even printing choices. With EDDM, you'll see that most companies will spend around $0.19 per piece on a direct mail campaign. That's compared to the average price of a regular direct mail campaign which can cost anywhere between $.30 and $10 per piece. EDDM also allows you to save money because you won't need a mailing list and you won't be personalizing pieces.
No postal limits
USPS's EDDM program is one of the few ways you can send out 200-5,000 pieces of mail per day without having your own postal permit. If you didn't have EDDM then you'd be required to purchase a mailing permit. But EDDM allows you to bypass that step and get your pieces of mail out quicker and to more people. According to USPS, since 2011, EDDM has resulted in more than 26 billion pieces of mail and $3.8 billion in revenue.
Easy set up
One of the best perks of EDDM is the easy set up. It's as simple as selecting your store, location, choosing your flat size and defining your reach. You'll need a design piece, but the easiest part here is with EDDM your design team only needs to create one design. This allows the brand recognition process with your customers. The more they see one specific design, the more likely they are to remember you in the future.
If you're interested in EDDM and need help creating pieces that meet EDDM requirements, then Aradius Group has you covered! Let these ATTRACT InDesign templates guide your creative team with things including mailing label, indica placement, sizing and more.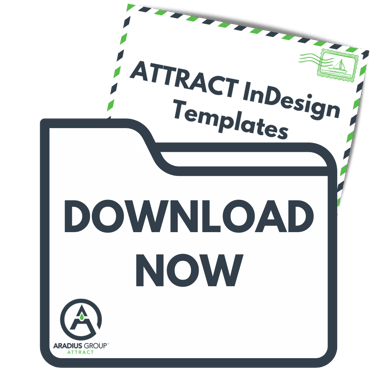 How can I make EDDM work for my business?
Like we've already covered, there are a few requirements from USPS when sending EDDM pieces, this post on LinkedIn explains ways you can make your EDDM piece stand out and work for your business needs. It can range from promoting discounts and special offers, to letting potential customers know you're just opening.
It's important to have strong verbiage on your pieces – think calls to action, big sales or promotions and don't forget the important stuff like where your business is located and dates that may be important to note. Since EDDM pieces aren't personalized it's important to find other ways to catch potential customers attention right away with the important details.
Check out this demo video to show ways you can make Aradius ATTRACT work for your business!
If you're looking for something a little more personalized, then EDDM may not be what you need. Aradius Group has other tools to help you with personalization. You can check out the following to get started with those tools:
Why should I use EDDM?
If you're seeking an answer to why your company should be using EDDM, then you're probably looking for ways to simplify the way you currently do direct mail. If you look at all the benefits of EDDM it seems like an easy choice to make, but if that hasn't sold you then we'll explain further how it can help your business. You'll reach more people than normal; you'll save money and people in your community will know when your business has a new promotion or special event.
In today's world it's important as a company to make sure your brand is staying top of mind, because the more times a customer sees it, the more they'll recognize it. Let EDDM help you simplify your direct mail marketing campaigns.
If you like the what you've heard so far about EDDM and how it could help your business, check out this case study to show the breakdown of one of our client's savings after using ATTRACT versus traditional mail.
The Takeaway
Direct mail is a simple and cost effective way to elevate your brand and promote your business to targeted communities and with Every Door Direct Mail it doesn't need to be complicated. If you're not already utilizing EDDM it's something you should consider.
Aradius Group is here to help. We have many tools in our ATTRACT solution to help get you started, from our InDesign templates to our case study and print guide. Click the computer below if you're interested in learning how you can simplify your next direct campaign! We'd love to help take your business to the next level.